WisdomTree prende Marinof da State Street
Marinof ha maturato oltre 18 anni di esperienza nel settore e ricoprirà il ruolo di head of distribution per l'Europa.
LA NOMINA – WisdomTree, emittente di exchange-traded fund ("Etf") ed exchange-traded product ("Etp"), annuncia la nomina di Alexis Marinof in qualità di head of distribution per l'Europa.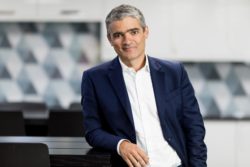 Marinof ha maturato oltre 18 anni di esperienza nel settore e vanta comprovati successi nello sviluppo di attività multi-prodotto paneuropee nell'industria degli Etf. Marinof proviene da State Street Global Advisors (SSGA), società nella quale ha ricoperto diversi incarichi di responsabilità, tra i quali, più di recente, il ruolo di EMEA Head of SPDR ETFs e Managing Director per la sede di Londra. In SSGA ha anche svolto le funzioni di EMEA Distribution Chief Operating Officer a Londra, Head of Middle East and Africa a Dubai e Head of the Nordic Region a Bruxelles. Marinof guiderà l'attività di distribuzione di WisdomTree in Europa, con il supporto di staff dedicati in Germania, Italia, Paesi Bassi, Paesi scandinavi, Svizzera e Regno Unito. Riporterà a David Abner, Head of Europe, e sostituirà Morgan Lee che ritorna alla sede centrale di WisdomTree negli Stati Uniti nel team Institutional Distribution in qualità di Regional Director for the West Coast.
MANAGER DI ESPERIENZA – David Abner ha dichiarato: "Marinof ha una conoscenza eccezionale del settore, grazie all'esperienza maturata in State Street Global Advisors dove ha gestito l'attività di business dei Paesi EMEA nell'industria degli ETF per diverse tipologie di clienti. Sono convinto che Alexis offrirà un grande contributo alla nostra attività di espansione e rafforzamento delle relazioni con la nostra rete di trader e investitori in tutta Europa". Marinof ha dichiarato: "Ho sempre ammirato le soluzioni uniche, differenzianti e basate sulla ricerca che WisdomTree propone agli investitori. Sono lieto di entrare a far parte di un'azienda leader che ha dimostrato di essere fonte di grande innovazione nel settore degli Etf e degli Etp, con un'impronta da leader globale e crescenti ambizioni in Europa".
ARTICOLI CORRELATI
Ti può anche interessare