The Value of Cash and the Gurus
A cura di Justin Carbonneau, Validea Capital Management
Cash may be one of the most boring things to talk about when discussing a company and its investment prospects. Things like a company's business model, its stock price, its future growth forecast, its yield, and its valuation are far more exciting. But cash is an asset that gives companies many options both in terms of pursuing growth opportunities and other forms of capital allocation like buying back shares, paying dividends and helping the business stay afloat during major downturns. A few of the gurus we follow on Validea look at cash as part of their assessment of the overall value of a business. In this article, I will take a look at how they use it.
Cash Hoard
If you follow the economic news, you probably have heard that American businesses are flush with cash. The chart below from Bloomberg and the Federal Reserve shows the growth of nonfarm, nonfinancial liquid assets over the last 15+ years. As the Bloomberg piece points out, liquid assets on corporate balance sheets, which includes a large portion in cash, has gone from less than $1 trillion in 2000 to more than $2.25 trillion through June 30th, 2017.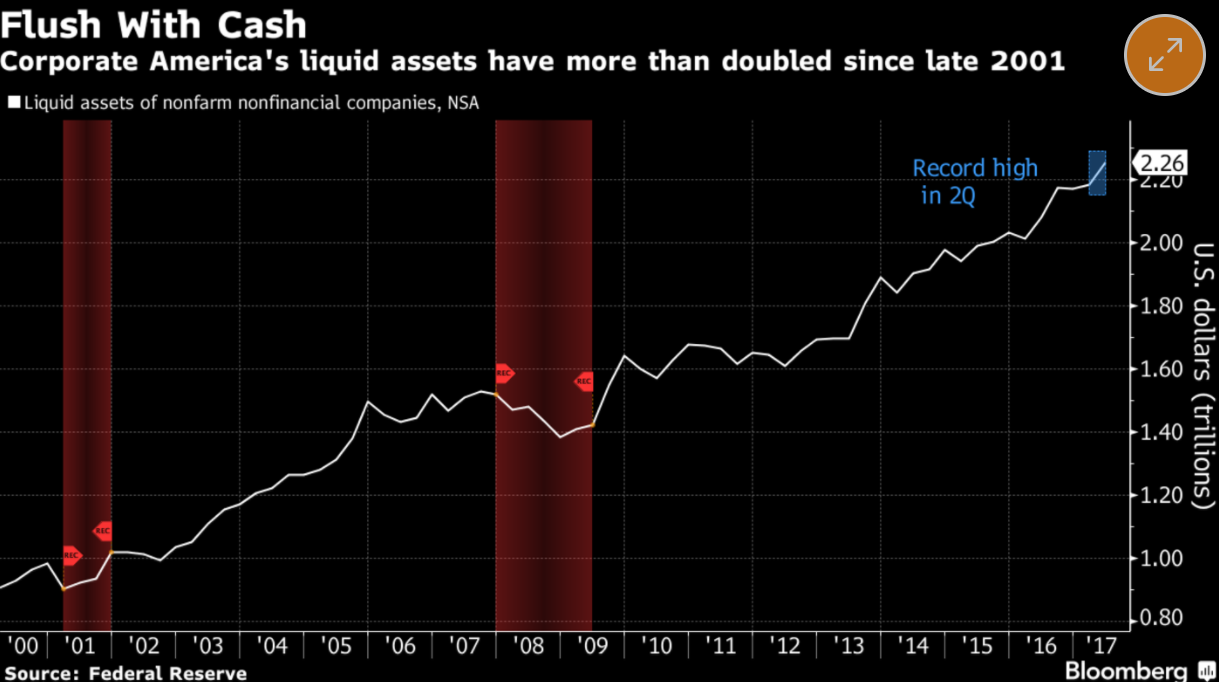 source: https://www.bloomberg.com/news/articles/2017-09-21/corporate-america-has-amassed-a-record-amount-of-cash
Great Companies, Lots of Cash
There are a few major companies that are driving the corporate cash stockpile, including Apple and Berkshire Hathaway.
Apple, which is currently the largest company on the planet in terms of its market capitalization, has over $260 billion in cash on its balance sheet. To put that in perspective, Apple could buy Nike, Lowes and CVS outright with the cash it has on-hand and still have billions leftover. But Apple, at least historically, doesn't use cash as a way to make large major acquisitions. Instead, the firm has used cash to make small bolt-on acquisitions and as a hedge against the volatility of the technology business, where new products and the rapidly changing landscape can erode profits. The cash acts as a buffer, helping protect the firm in an ultra-competitive and changing business environment.
Berkshire Hathaway, run by Warren Buffett, had approximately $100 billion in cash on hand up until recently. Buffett's use of cash is largely there to make mid to large size acquisitions, buy publicly traded shares and swoop in for sweet-heart deals, all which have the potential to increase Berkshire's earnings power over time. The chart below shows a number of Berkshire's major investments through 2015. Buffett has said publicly that the minimum amount Berkshire will hold in cash is $20 billion. Buffett also likes being the lender of last resort, which allows him to get favorable terms on his investments. For instance, in 2011 Berkshire put up $5 billion for Bank of America to help strengthen its balance sheet. In return, Buffett got BoA preferred stock that yielded 6% and 700 million warrants that gave him the right to buy the bank's stock in the future at the price at the time of the deal (i.e. $7.14 per share). Fast forward to earlier this year, and Bank of America's stock was trading in the mid-20s, yielding a stake worth more than $17 billion when Buffett converted the warrants to actual stock, according to this CNBC piece.
Continua a leggere sul Blog di Validea
ARTICOLI CORRELATI